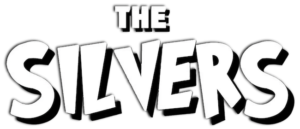 These songs are reminiscent of the '60's British Invasion! Mick, Drew, Tom and Glenn have created an album that hearkens back to the "Help", "Beatles For Sale" era of The Beatles music. Listen and see for yourself why this band was chosen by the people involved with "Lord of the Rings" to create a kids' cartoon featuring the band's music!
The Silvers are:
Mick – bass and vocals
Drew – guitar and vocals
Tom – guitar and vocals
Glenn – drums
Glenn gets a haircut. Mick makes an epic mountain carving. Tom and Drew are in peril! Can you do these things too? The Silvers say YES YOU CAN!
From the "Another Summer" EP on Earthwire Records.
Video animated and written by Randyl Bishop
Illustrations by Juan Carlos Quattordio and Randyl Bishop